"Where you are going, you have only God." On the evening of 13 September 1980 as I passed through the gate of my family house in Dakar, Senegal for the last time, my father, El hadj Djibril Bousso, a devout and well respected Muslim spoke these words to me. Words I would never forget. Those words became prophetic. I left my home country Senegal, at the age of 23, and lived in France for 22 years.
I grew up silent and determined and my books were my friends. From coming last in a class of 64 at just 11 years old, I set my heart on my studies and 12 years later was awarded a first-class degree at the Institute of Technology of the University of Dakar in 1980. I was then offered a scholarship to pursue my studies in a high-ranking French business school, Sup de Co Rouen. I arrived in France knowing no one and after a successful three years at the academy, I graduated and got another degree in human resources management. At the same time I attended a specialised training in computer programming and projects.
I then decided to start my training programme to become a chartered accountant and worked in a French accounting and auditing firm offering accounting and financial analysis services. It was the beginning of personal computers in business companies in 1986. I was asked to open a new division specialised in accounting, warehousing, payroll and financial analysis software distribution and on-site training. I ended up six years later creating my own company of financial consulting and helping small business units to get their accounting and financial management system computerised using specialised business software. In 1999, the CEO of a company in expansion in Paris approached me and asked me to work for them as Chief Financial Officer, the job I occupied till I finally left France to follow Prophet TB Joshua.
MY ENCOUNTER WITH JESUS CHRIST
Jesus revealed Himself to me in a personal encounter on Sunday, 21 August 1994 in my small apartment in the 13th district of Paris during a terrible period of my life. That encounter changed my life forever. After 14 years of gracious living in France, suddenly my whole situation turned to a catastrophic failure and loneliness. I lost everything and was alone with no hope, no human solution. I was alone in my room in deep turmoil and depression with no one to turn to for help. I was in the position of the man at the pool of Bethesda who Jesus came purposely to meet to get him out of his hopeless situation.
That Sunday, 21 August 1994, I cried to God, "My God, my God, please help me!" But the cry of my heart for help to my God was heard by the One I never knew, being a Muslim from birth. I never knew Jesus Christ but Jesus Christ knew me from my mother's womb.
That same day in the afternoon, I met one woman on the street who was a stranger to me. She began to speak to me about Jesus Christ and I answered, "I know Him, I am a Muslim and He is a prophet." She didn't insist but gave me a copy of the Bible. That night on my bed I took the Bible and a little booklet fell out. As I took it to read it, I saw in those words a picture of my life and quest for the truth. I suddenly felt a very warm sensation on my feet as if a blanket was being spread over my body. It started moving from my feet to my legs to my waist and covered my whole body. It was extraordinarily peaceful and hot tears began to come out of my eyes. Not tears of pain but of extreme peace. I was just saying, "Thank you; thank you" to an invisible Person who was with me. I knew in my heart it was Jesus.
I slept like a baby and woke up with a new peace. All the fear and anxiety disappeared miraculously. I told Him, "Because of what You have done for me, every Friday I will pray and fast to thank You for I knew You were crucified on a Friday." I began to visit all the Catholic cathedrals of Paris in order to know Him. I visited Montmarte Basilica every day until 11pm when it was about to close. My quest to know Jesus Christ lasted for nearly four years.
In 1998 I was faced with the choice between my faith in Christ or my partner. When I chose my faith, I was left on the street, lonely on a Christmas day, Friday, 25 December 1998, with nowhere to go. I was in a remote town in the South of France and as I walked, I came across a hotel. I entered the room and slept. I had a dream in which I was a baby in front of a big mountain, wearing diapers looking at a black man with a beard; he was looking at me with a smile. I could not speak but wanted him to carry me in his hands and place me at the top of that mountain for he was as tall as the mountain itself. The vision was so real that I began to ask where will I encounter this man? Four years later in January 2002, I was invited to a prayer meeting at a church in Paris to watch a video showing shocking healing miracles from a man known as 'The Man In The Synagogue.' His name was Prophet TB Joshua. Although my curiosity was stirred, I did not immediately connect this man with the dream I had in 1998. The pastor of that church asked me to help him get an invitation to visit The SCOAN. At my office desk I sent an email on his behalf and the invitation to come and visit was sent a week later to the great joy of my pastor.
I was working as Chief Financial Officer of two companies in the first district of Paris. A week before flying to Nigeria my pastor asked me, "Why can't you come with us?" I declined because February was a very busy month for financial and fiscal reports in France. That week, the CEO of the company entered my office for a quick discussion and I told him I wanted to travel to Nigeria. He said, "What?" I said, "Yes, I want to pay a visit to a prophet." He said you are completely "ouf" (out of your mind)! But to my great surprise, he left only to come back with a cheque to pay for my ticket to Nigeria.
When I entered the premises of The SCOAN in February 2002, I saw a picture of Prophet TB Joshua and my heart jumped – it was the man I saw in my dream four years earlier. The day I was to go back to France, it was a Sunday Service. Prophet TB Joshua interrupted the service just to attend to me. In his office, something happened. As he stretched his hand to give me a Bible promise, I couldn't move. I was struck by a mighty power. He asked, "What are you doing in life?" I told him I was an accountant and chief financial officer in a French company. He told me that God has a mighty plan for my life and I should come and work under him to be trained, for God will make me a great man of God. Upon my return to Paris, I had a series of dreams about the prophet and one day God showed me in the vision the map of Africa with Nigeria beating like a heartbeat. I resisted the visions until May when I decided to take leave for one month to go to Lagos again to finally make up my mind.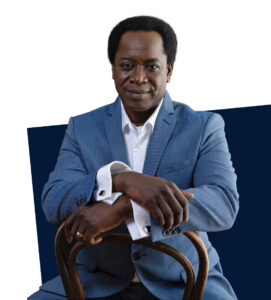 At the end of the month of June, the day of my departure back to France, I made the heart decision to leave France and follow the direction of God's calling in my life and the realisation of the dream God gave me in 1998. On 16 July 2002, I left France definitively after 22 years, resigning from my job and arrived in Nigeria the day before my birthday on July 17. A new chapter of my life had opened.
For the next 19 years, I was trained, taught, disciplined and guided by Prophet TB Joshua in the school of the Holy Spirit. As our mentor taught us, "If you want to become God's person, you must follow His process." I knew that not one of us had come to stay with Prophet TB Joshua by our own will but to carry our cross and put on Christ's character. He told us again and again that anointing doesn't work through plans, methods or machinery but through suitable men and to be suitable, you have to go through God's processing. To be melted, remoulded and filled. That was the purpose of the training, correction, love and teaching of our discipleship. He told us, "I want to reproduce, I want you to do greater things than what I am doing."
As we read his notes, we read his life. In meetings, he taught us what it takes to be a leader in Christ. To be trained so we can train others, to be taught so we can teach others. "You can only build your character in a place where you can be corrected. It is our character that services our work. Our character is our paymaster. It is the proceeds of character that brings about the work of God" (Disciple Meeting, 21 January 2012).
The transformation of my life became radical as I grew in Christ's deep knowledge and character. I had since childhood been a taciturn man but God performed a miracle in my life. I began to preach before a congregation and later joined the evangelical teachers. In 2004, I joined the junior prophets praying for the sick and began to experience God's miraculous healing and deliverance power for the relief of the sick and oppressed under the mentorship of Prophet TB Joshua. In 2010 I became part of the wise men operating in a higher level of anointing. God is so faithful that in 2018 a special grace was given to me to be part of the first set of Prophets with a deeper anointing still under the mentorship of Prophet TB Joshua till his departure to Heaven on 5 June 2021.
God took him unexpectedly, suddenly on 5 June 2021. To me, it was like the case of Enoch whom God took because he was pleasing to God. Very early in the morning of 5 June about 4am the prophet called me and we talked on the phone for 41 minutes. It was the first time he had called me at such a time. During my prayer at 6 o'clock at the prayer mountain, I was called again at 6:21am. He asked me to come up and meet him. He was praying, dressed in a way I had never seen him, like a sprinter with a jersey and running shoes. It was later in the afternoon that I understood the meaning of that. He was finishing the race. That last day, before he came out for his final service on Saturday 5th, he sent me to preach. After the message I called him to let him know that I had finished. That was my last assignment under his mentorship during his life. He came out after a while and spoke briefly and said it was time to return home after service. Those strange words resounded in my heart. When he walked past me, something prompted my heart that something was going to happen. Less than an hour later, he was in Heaven.
It was the shock of my life, like a dream. The man who adopted me spiritually was no longer there. His departure shook the Christian community worldwide. Our faith entered survival mode. Our confidence towards God's direction was challenged in a unique way. I could only run closer to God. My heart, made raw by the deep pain, was suddenly so sensitive to the eternal Truth. Unusual strength came and I sensed the unseen Hand of God in our test. I knew that it was God's will, and rather than react emotionally, the only way was to follow the path of faith and humility.
The words of my mentor from a meeting in 2015 rung in my heart: "Your time here is more blessed when the teacher is not here than when the teacher is here. There is a Teacher you cannot see." The time to march with God had ended; it was time to march for God (John 14:17).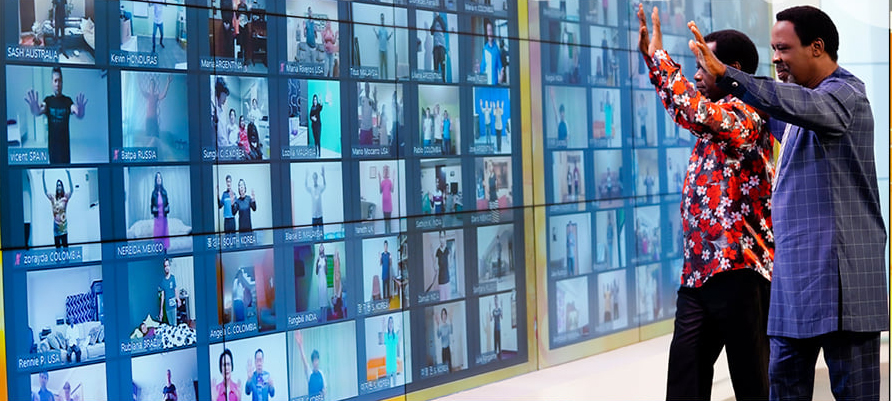 I wouldn't have imagined for a second that in the midst of the greatest challenge of my Christian life, such deep love for a woman could spring and remain. I have read the Bible many times and came across the Book of Ruth each time but never suspected that it would become a reality in my life one day; today that Book of the Bible I so much read has been fulfilled in my life.
In the midst of mourning such a precious and beloved father, no one has room in his heart for lustful or fleshly desires. But it was in August 2021 that a God-given revelation, sanctioned by the Scriptures in the Book of Ruth illumined my heart. Love of heart began to spring from deep inside of me, unconsciously, uncontrollably.   The more I prayed about it, the more the Scriptures kept pointing me to one of the evangelists, Ruth. I resisted that revelation many times, praying over it and mentally trying to sweep it under the rug of differences. But at each attempt to stifle it, it became deeper and deeper, as if I was trying to sweep a flooded floor from a tap that refuses to close.
I thought, it was just a one-sided temporary experience. Little did I expect that Ruth was experiencing the same thing at the same time until the day she told me that she had a dream and she was hesitating to tell me. I told her she should listen to her heart. She suddenly told me the dream she had about me. She didn't know that earlier in the morning of that same day, I also had a revelation about her. For the first time in my life, I experienced what the Bible calls a heart agreement. It was as if a veil was removed and I began to understand why there had always been such a level of deep mutual respect and ease of understanding between us.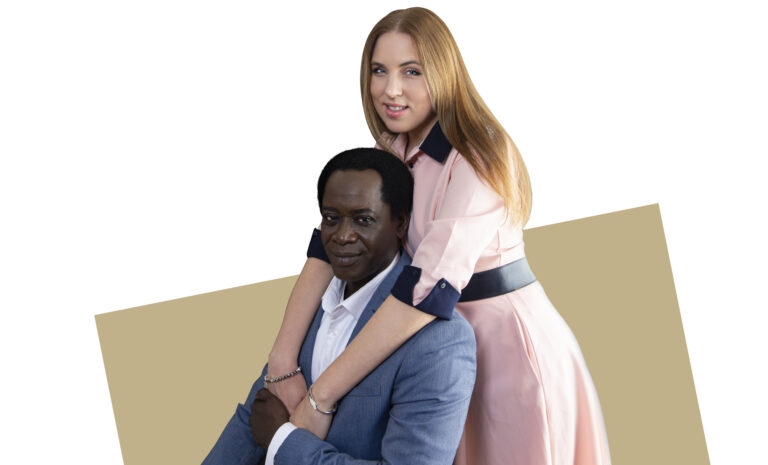 Our love for each other started within our heart, became so deep, natural and was sealed by faith in the eternal God of destiny when I married Ruth on 14 February 2022. I learnt a big lesson. God's kind of love is not reasonable; it springs spontaneously, unpretentiously from the true fountain of love, the human heart. Life never completely closes the door to opportunity. Nothing is too late or impossible as far as God is involved. Love of heart has no colour, no age, no mindset. Earthly love will never bypass reason before decision but love from the heart sees beyond reason. It only follows one path: The peace of heart from Christ.
Our common faith in Jesus Christ and the peace of the Holy Spirit has sealed our union for mutual destiny. With Jesus Christ's mission first in our mind, we have started the same journey as Abraham and Sarah, Boaz and Ruth and of every godly Christian home.
It is said that we live life forward but understand it backwards. Now as I look back at my life, I can truly say it is a miracle. I continue to follow the powerful vision that God has given me for my life and I can see His hand directing every step as we launch the University of God on 19 June 2022.